At the time of lockdown, the Number of Online Transactions or Net Banking Increase significantly, and more People started making online payment transfer. Because of lack of Online Awareness, several cases of online frauds come into notice.


how UPI frauds are happening or it works
The Unified Payments interface or well known by the name of UPI, change the way of making online transactions in the last 4 to 5year.UPI Payment System was Introduced on 11th April 2016 by Dr. Raghuram G Rajan (Former Governor, Reserve bank of India, Mumbai).

Many Popular Applications embedded UPI Payment systems into their platforms such as Google Pe, Phone Pe, Paytm, And many others. While govt and Private Players Promoting online transaction infrastructure, it also created new ways to do online frauds in India with the users of this platform. Recently I was doing research about Online frauds in India. I found out thousands of people are victims of UPI Scams. Recently I interacted with 10 to 12 people who got cheated on the name of Customer service, KYC frauds, and any other type of scams.
Because of some much sudden increment of online money fraud, several banks issued an advisory on Twitter and Facebook about these frauds and asking their customer to do save banking.

State Bank of India also issued an Advisory on Twitter.
How these online fraudsters Can Trap You.
Phishing Scams

You may be targeted by a text message on your number or on your social media account, such messages include online Payment links. This type of message always comes with the text of urgency such as including payment refund offer, Discount, etc. When you click on such types of messages, it will open any Payment application on your phone, which includes the UPI Payment system. Later on, it will ask you for auto-debit, if you give them permission, the amount from your bank account starts transferring to the scammer account. It will take only a couple of seconds.
How To Prevent such Online Frauds?

Try to avoid such a Message and report it to spam. If you opened it, no problem until you download the content in the message or clicking on the link, especially any text message you received on your phone from an unknown organization.

Note: All the URL is not same on the internet, for example, www.my.Digitalsudhri.com is not same as www.digitalsudhir.com, I hope you understand.
Remember to click on any spam URL, can lead to compromise with your privacy. It may also infect your phone by installing malware into it. These Malware/Spyware are specially designed to steal the financial and personal stored information from the device.
Wireless screen mirroring tool.



These day most of the people doing work from home, and for working comfortably we all used to connect over a laptop or smartphone with a big display for this many people downloaded remote screen mirroring tools, these tools basically connect Smart Phone or Laptop/Desktop via WIFI to things like Smart TVs.
On the Internet, Not All Applications available on the google play store, which are used to make online payments are authentic, especially the unverified apps. Whenever you download any application, it gains access to your phone files and folder.

So just what happens when you download an app from an unverified source? It may lead to giving access to your phone Data, Camera, and Mic to the scammers, also gain complete access over the device.
During the research on online Fraud in India, It comes into notice. These Scammers/Fraudsters also do scams by representing themself as bank representatives. Who is calling for your account verification Purpose? They will access your Bank account Details and ATM details.
Sometimes they also ask to install a third-party application (An app that is not verified or available on the genuine website, basically it is a copy of any software) for "verification purposes" Once you download such application, this application will give your phone access to the scammer.
Ambiguous UPI handles

Online Fraudsters perform such scams using someone's name, profile or representing that they are taking donations for helping somebody. Money time it found that these scammers using fake social media account, which has a similar name to govt organization such has NPCI, BHIM UPI, or other govt banks, but you all need to understand all this not make it authentic or trustable.

Many such online fraud cases came into existence in the lockdown period, when govt access to donate into PMCare Fund and these scammers created fake PM care UPI ID to do scam people.
Online Fraud using Someone OTP, UPI PIN
In a complaint, another case of online fraud comes into notice, where a Scammer Sending "Payment Request" links to random Customers. When the customer clicked on the link and enters their UPI Pin, in hope that he is going to receive some money. The amount gets deducted from their account.
Another oldest way to do scam people is to ask their OTP over the phone calls. Whenever we do transactions through any payment portal we need to enter One Time Password (OTP) Received on the phone or UPI Pin. Once the scammer gets Transaction OTP from you over the call and verifies it, Your transaction is a process know you can not do anything.

UPI Phone Pe 24000 Rs Customer Support Scam online
Internet is the place where people search every single question of their life today time, when you need any medication just go to google and type the problem you are suffering from. Search for any food recipe go to google and type the name and you will get it.

Same for all things like book tickets, cabs, order online food everything we searched on google, if you searching for customer support for any company just enter the name and customer care name... and you can see thousands of customer care numbers in your search results. and, here online scams/frauds come into existence in India.

This Online fraud has happened with one of my neighbor.

Why this scam is different from others

The scammer creates a phone pe customer support fake website.

He Runs Google ads, on the phone pe customer support keywords.

It means the scammer is enough educated and has good work experience in AdWords, that is the reason he was able to run customer support ads.




The is a proverb: Bury someone on the second page of Google search results, and he will never be found.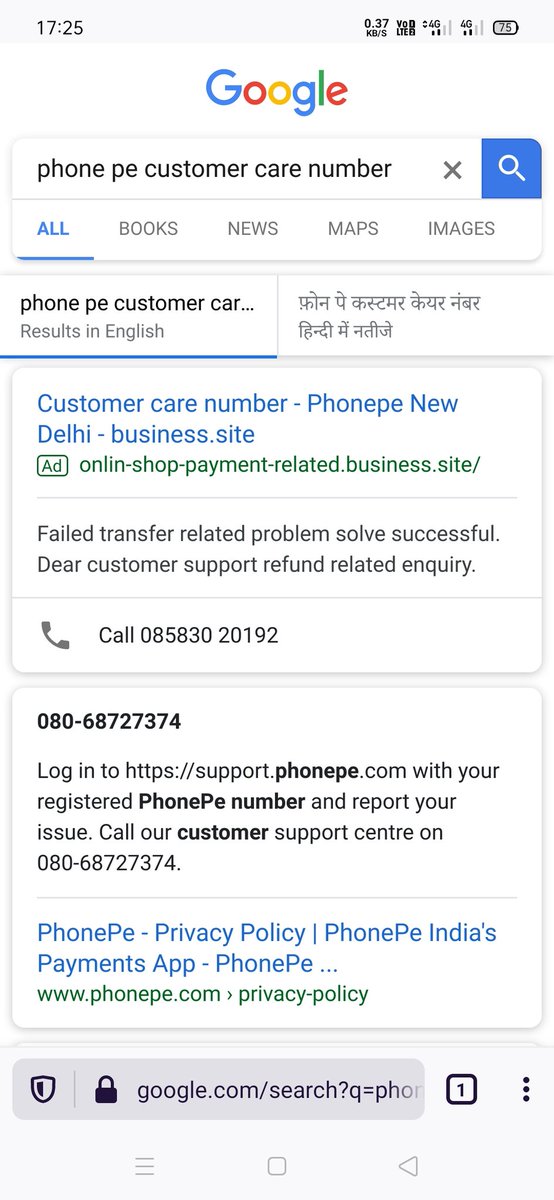 Here is what you need to understand: the website which is represented as a phone Pe customer support website is completely fake. what part do you need to notice here?Watch the Watch the website URL (Web page address) carefully and you will find, this is not the official website of phone pe.
so after finding this website, I write multiple emails to the Hosting company and ask them to block the Website URL and Details of the scammers. You can check in the next image, company remove the website.
if you notice, the scheme was hosting this website on a sub-domain. which means it is difficult to find all his contact details. But somehow I managed and get the scammer's mobile number, which later I email to Delhi police with all the details.
Question is this? How he took Uncle 24,000 INR?
Uncle did the same as I mentioned above, the types "Phonepe customer Support Number " in google search engine.

Google shows him some results according to the search keyword and 3 ads top of the organic results.

Because click on the first option which was basically a Customer support online fraud. He was redirected towards the phone pe customer support fake website.

he dialed the number available on the website. as you know the website was created by an online scammer and he left his own contact number.

When uncle dialed the number, he picks up the call and said "hey sir, I am welcome to phone pe support".

then he asks to do some tasks on his uncle's phone, uncle did the same, in the last, he says you need to enter your UPI Pin To get your payment refund.

When uncle enters UPI Pin, He received the message of 24,000 rs debited from his account.

This all was an online fraud.
Conclusion
I hope you understand, not to trust everything you see on the internet. Don't share your OTP with anyone and never make any online transaction, before checking the website twice.

My 5 Suggestions to protect you guys from any kind of online fraud.


If you have any doubt that he is a scammer or going to do frauds with you, don't waste your time listening to him.

Receiving money from anyone around the globe you don't need to enter any PIN or OTP anywhere. These scammers most of the time use the "Money Request" feature to do scams with you. When you click yes and enter your pin the scammer received money from your account.

Receiving a Payment request from an unknown organization or individual just declines it.

Counterfeit apps are used to steal data from your phone which may include banking details, your personal sensitive data. Such applications are copies of the original app and containing malware, which may infect your device. For example Modi Bhim app.

Watch the complete video below